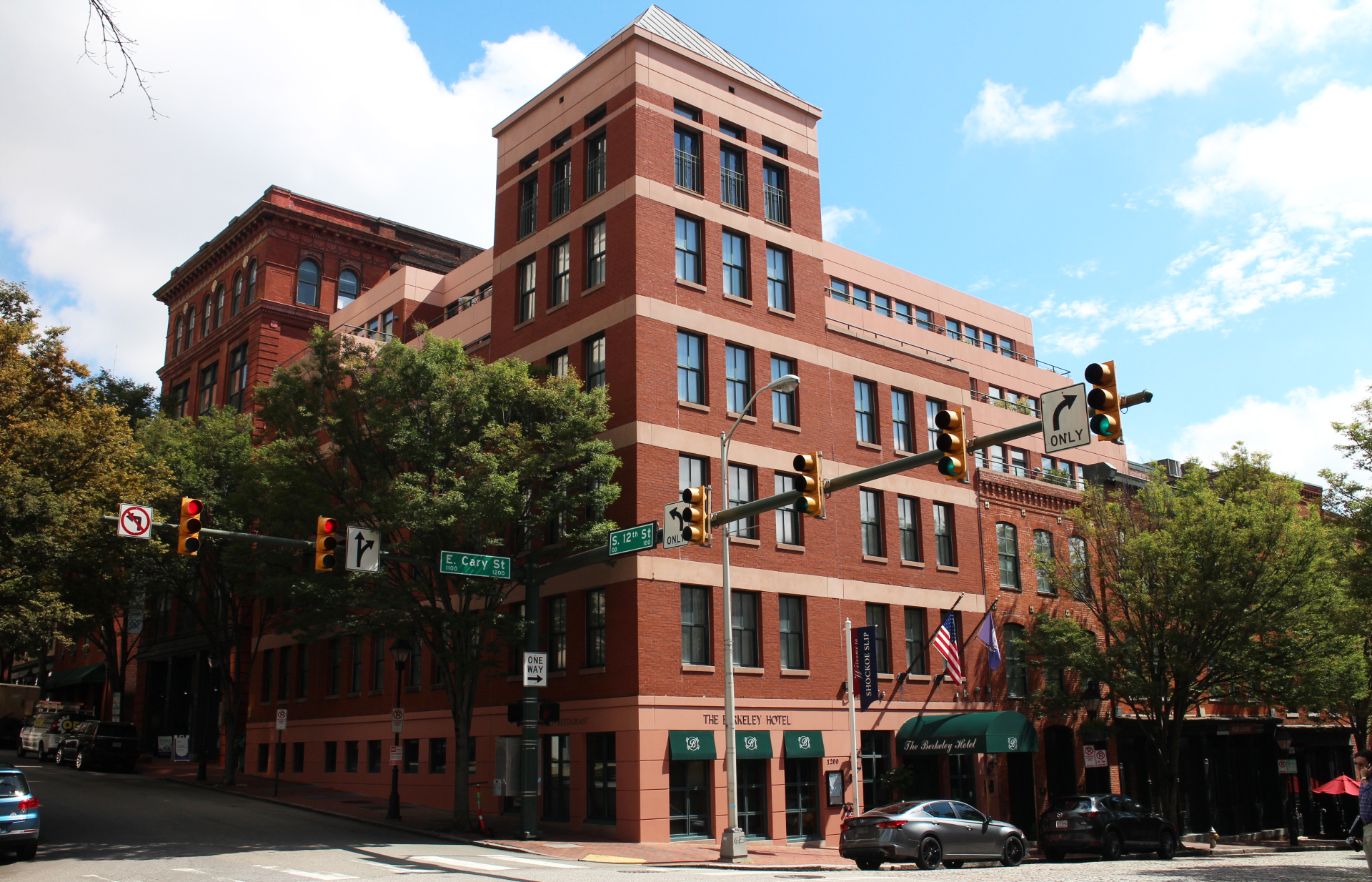 Two Richmond-area companies swap downtown Berkeley Hotel for $6 million
For the second time in three years, the Berkeley Hotel in Shockoe Slip has changed hands.
Last week, Henrico-based Kalyan Hospitality purchased the 55-room hotel at 1200 E. Cary St. for $6.2 million.
The seller was Apple Hospitality REIT, a local publicly traded company that bought The Berkeley in 2019, according to city records.
The Berkeley dates back to 1988 and bills itself as Richmond's first downtown boutique hotel. Other boutique hotels in town now include the Quirk and Graduate Hotels in Monroe Ward. Another is in the works in the Fan as a New York developer plans to convert the Shenandoah building at 501 N. Allen Ave. into a boutique hotel.
Kalyan's deal for The Berkeley closed on September 8. The property was recently appraised at $3.7 million. Kalyan Chairman Nick Patel said Steven Walker of RPC Realty Capital LLC arranged the financing and was also a partner in the deal.
In addition to its 55 rooms, which its website says start at around $170 per night, the Berkeley also has 4,000 square feet of meeting and boardroom space. A restaurant, The Cobblestone at The Berkeley, once operated there but has closed in recent years.
Starting next spring, Kalyan will begin to beautify the hotel.
"The hotel will undergo a comprehensive guestroom renovation that will embody transitional design elements, bringing the property's aesthetic into the modern era while respecting intentional and traditional atmospheres," Patel said.
Patel said they are also looking for an operator to fill the former Cobblestone space, which totals around 2,900 square feet.
Kalyan's portfolio of 26 hotels is comprised primarily of Hilton and Marriott branded spots. He has another boutique hotel in his portfolio, the Inn at Blackstone, set to open this fall in Blackstone.
At Short Pump, Kalyan is also working on a new nine-story hotel on a grassy lot next to downtown Short Pump. This hotel should be an element, a Marriott extended stay brand.
Following the agreement, Apple Hospitality has 218 hotels with a total of 29,000 rooms nationwide. Like Kalyan, it also mainly deals with national brands such as Marriott, Hilton and Hyatt.
Its holdings in the Richmond area are a trio of hotels not far from the Berkeley in the Courtyard Richmond Downtown, the Richmond Marriott and the Residence Inn Richmond Downtown.