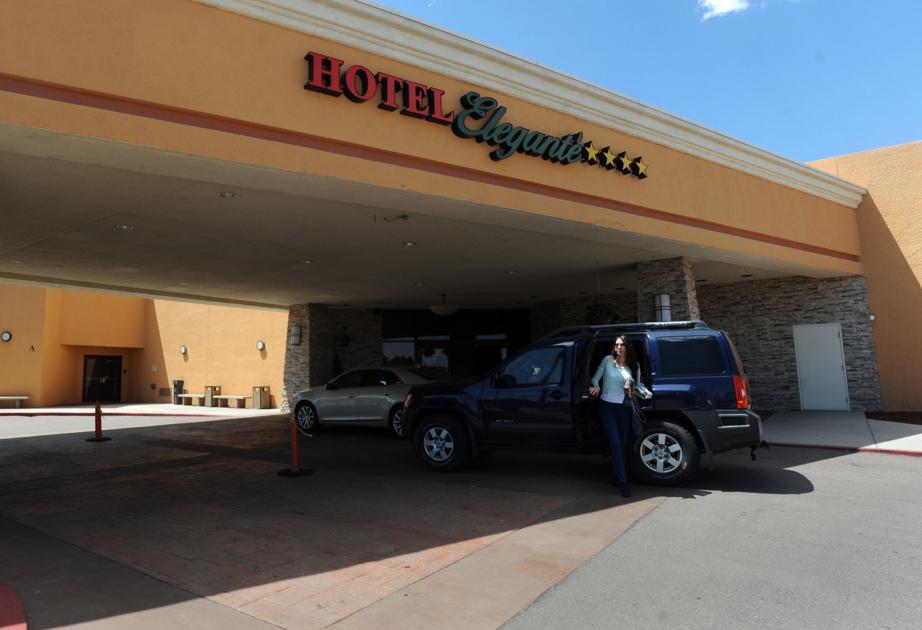 Texas developer plans to convert Colorado Springs second-largest hotel into apartments | Premium
Austin, TX company specializing in hotel-to-apartment conversions proposes to transform Hotel Elegante Conference & Event Center into 642 "accessible" apartments under plans filed with the city of Colorado Springs on Monday .
According to the plan, the 496-room hotel at 2886 S. Circle Drive, the city's second largest, would remain open during the year-long first phase, which would convert 201 rooms to mostly studio apartments. These rooms are already rented weekly by the hotel. The hotel would close at the start of a second one-year phase as the remaining 295 rooms are converted; the ballroom and conference space would then be renovated into 146 additional units in a one-year final phase.
Construction is expected to start by the end of the year, but the project is far from complete. The company proposing the project, SHIR Capital, has yet to purchase the hotel and obtain city approval for changes to the hotel's development plan before construction can begin.
Elan Gordan, a director of SHIR, said the hotel has been under a sales contract since December and the project will move forward once the city's approval and funding is in place. He declined to reveal the terms of the transaction, such as the purchase price or the cost of renovating the property, but said "a lot of money will be invested" in the project.
"We put him under contract during the height of the pandemic, when no one was traveling," Gordon said. "I'm hopeful that we'll get there. We're still ticking boxes, but there are still hurdles. We can't get funding (in place) until the city approves our plan. Nobody's got it right. won't lend for a hotel, but they will do it on multi-family projects. We are going to be offering something very exciting for the community. We will have a lot of amenities and will be an asset to the community. "
Ed Okvath, the hotel's general manager, declined to comment on the matter.
Second Colorado Springs Housing Forum scheduled for Monday
As part of the conversion plan, the hotel restaurant, gift shop, outdoor pool, dog park and several courtyards would remain for the use of residents of the resort, which would be renamed the hotel residences. Elegant. The hotel's tennis and basketball courts would be converted into parking lots for apartment tenants.
SHIR owns 2,800 apartments in Pennsylvania, South Carolina and Texas, as well as construction and property management companies. The real estate investment company has acquired seven hotels in Austin, Texas; Greenville, SC and Pittsburgh since 2015 which it has converted or is in the process of converting to apartments and has another in Dallas under a purchase contract, Gordon said. The company also acquired and renovated 12 apartment complexes in Pittsburgh and Austin and San Marcos, Texas.
"Our main business was buying and renovating apartments and we developed a side business of buying and converting hotels into multi-family dwellings," said Gordon. "Since the pandemic (COVID-19), this has become our core business. Many lenders were taking over hotels (instead of foreclosure) and owners were trying to sell them to avoid foreclosure. There are still plenty of them available. . "
Although SHIR primarily targets struggling hotels, Gordon said the company is targeting the Elegante Hotel due to the rapid growth and development of the Colorado Springs area. He called the hotel "a phenomenal operation" which is neither in distress nor in poor condition.
Hotel rooms typically have around 300 square feet of living space, which is half or one-third the size of an average studio apartment, so SHIR charges below-market rents for these apartments, Gordon said. The company typically targets restaurant waiters, retail workers and other blue collar workers who can't afford larger apartments, he said.
"They don't have a high income but want their own housing. They are very price sensitive and the rents we charge are a very big selling point," Gordon said. "When we shopped in the Colorado Springs area, no studios (of any size) were available."
The Elegante Hotel was built in two phases in 1974 and 1984 and operated under the names of Four Seasons, Sheraton, Clarion and Crown Plaza before a partnership controlled by Texan investor John Bushman acquired the property in escrow. for $ 14 million in 2013. He spent another $ 2 million to replace all bedroom mattresses, add a Starbucks cafe, a Blue Bell ice cream parlor, a children's playground, a sports bar, a fire pit and outdoor seating.
Bushman invested nearly $ 25 million between 2010 and 2013 in the purchase of foreclosed or financially distressed properties in Colorado Springs, including another hotel, the former Macy's store at The Citadel Mall, a mansion in the Broadmoor community Resort and 32.5 acres near the Colorado Springs airport which later became the site of a FedEx distribution center.