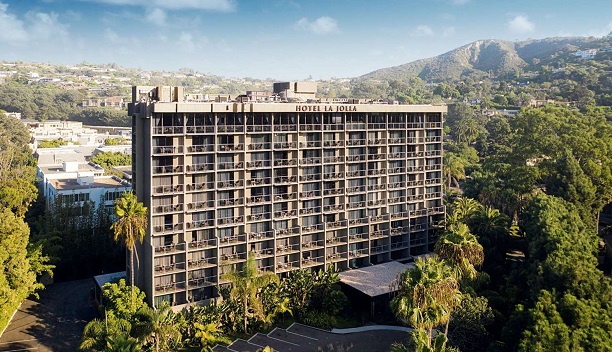 La Jolla hotel acquired by Kawa Capital Management, CL Hotels
A partnership between Kawa Capital Management and CL Hotels acquired the La Jolla hotel in San Diego. The property has 11 floors and 110 rooms and is operated by Curio Collection Hilton, which has renewed its lease for 20 years. The sale price was not disclosed.
The partnership plans to invest an additional $ 5-6 million to modernize the property's lobby, pool, restaurants and guest rooms. The renovation will take two years, and will not disrupt operations. Joao Woiler, director of CL Hotels LLC, said the upgrades "will provide upscale facilities and services that suit the region." Woiler expects a resurgence in business and leisure travel.
San Diego is a leading hotel market and is consistently ranked in the top 10 nationally. The market is also expected to recover quickly from the pandemic. CBRE Research forecasts Full recovery in domestic hotel occupancy rates by 2022 and average daily rate by 2023. While this illustrates a long cycle of recovery, it is also an indicator that the hotel market will rebound in the near term. San Diego is well positioned to overtake the rebounding US market, with a full recovery expected in 2022.
In a previous interview, Brandon Feighner, Managing Director of CBRE Hotels' Advisory, had similar expectations for a return to the business and leisure travel market. "We believe San Diego is better positioned than most given the abundance of leisure travel and attractions. Two-thirds of leisure travel to California comes from Californians. We're starting to see this early comeback as things start to open up, "he said.
Many investors are taking the opportunity to buy hotels in the market in the hope that the trips will return. In May, Park Hotels & Resorts Inc. Between in a definitive agreement to sell two hospitality assets for a combined proceeds of $ 149 million. The properties consist of the 210-room Indigo San Diego Gaslamp Quarter Hotel in San Diego, California, and the 204-room Courtyard Washington Capitol Hill Navy Yard in Washington DC. Others took the opportunity to make upgrades. Last October, the Lowe and Atlas hotels open on the doorstep of the 40-acre, 675-room Town & Country San Diego complex. The multi-million dollar project turned the property into a mid-century modern mixed-use property. The project has been in the pipeline for several years and was designed to appeal to a wide range of travelers, including leisure, business and convention visitors.
Hotel La Jolla is a five-minute walk from the beach, and 70% of rooms have ocean views. The property is close to La Jolla Cove, La Jolla Village and Torrey Pines.