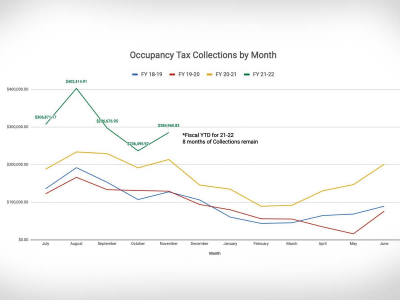 Jackson County tourism stronger than ever
"We have increased tourism spending in Jackson County to almost $ 300 million, and it's only second to Buncombe County," said Nick Breedlove, director of the Jackson County Tourism Development Authority.
By the end of 2021, tourism employed more than 2,000 people in Jackson County, an increase of more than 200 tourism-related jobs from the previous year. According to JCTDA reports, tourism generates $ 84.5 million in paychecks.
"A lot of people see tourism as traffic or waste. What I see is that it helps put food on people's tables and helps people pay off their mortgages, "Breedlove said.
According to Tourism Economics, a national business, people visiting Jackson County spent $ 292 million on local businesses in 2021. That's on average more than $ 800,000 for local small businesses every day.
Positive trends
A positive trend seen throughout 2021 is the number of short-term rentals available in the county and the amount of revenue they generate. On each overnight stay in Jackson County, there is a 4% room tax, which funds the JCTDA budget. Airbnbs and similar short-term rentals have seen explosive growth across the country during the pandemic. In the Cashiers, Sapphire and Glenville area alone, the short-term rental market has grown by at least 300 homes over the past three years.
"It has an effect on housing, rents and affordable housing. It's a challenge that not only us, but a lot of communities are facing right now, "said Breedlove.
While the share of people staying in short-term vacation rentals may increase, the percentage of people staying in hotels and motels appears to be steadily declining. For fiscal year 2019-2020, more than 60% of overnight stays in Jackson County were short-term vacation rentals.
During the month of October, the occupancy rate for commercial accommodation stood at 74.8%, while the occupancy rate for short-term rental accommodation was 67%. However, commercial accommodation brought in revenue of $ 1.5 million and short-term rentals generated $ 5 million.
"We see this trend continuing and everyone nationwide is wondering if this is going to fix itself and people will be going back to hotels. But right now people feel safer moving into an Airbnb, cleaning it up and just spending time as a welcome camp for the holidays, "said Breedlove.
Another positive trend is the amount of money collected through tourist tax. Collection in Jackson County is ahead of schedule. The JCTDA has already raised $ 1.2 million, or 88.6% of its annual budget, and there are still eight months of fundraising left in the fiscal year.
"We plan to break all records in TDA history for the collection of occupancy tax," said Breedlove.
The two busiest months for Jackson County tourism are July and October. In fiscal year 2019-20, Jackson County sold just under $ 50 million in homes. This year, eight months into the fiscal year, Jackson County has already sold $ 40 million in homes.
Capital projects
This year, Jackson County may have its first opportunity to use tourism revenue for investment projects in the county. Over the past year, tourism development staff have reviewed best practices and spoken to other destinations on how to best use tourism dollars for capital projects. The JCTDA has now created an app for capital projects, which is currently under review and is expected to open in the first or second quarter of 2022.
All capital projects will need to be approved by the Jackson County Council of Commissioners, and the parameters outlined in Jackson TDA's enabling legislation mean they will need to be tourism related in some way. The law requires that two-thirds of occupancy tax funds be used to promote travel and tourism in Jackson County and that the remainder be used for tourism-related expenses. The law defines tourism-related expenses as those designed to increase the use of accommodation, meeting or conventino facilities, or to attract tourists or business travelers to the county.
"Capital projects are something we've been talking about since we started ADT," Breedlove said. "We wanted to make sure we did it in the best way, that we used these tourism dollars which are arriving at a record pace to reinvest in our community. Assets that residents and visitors can benefit from.
Other projects
Jackson County TDA funded two grants in 2021 – $ 35,000 for planning for future growth in the cashiers area through the Urban Land Institute and $ 3,800 to the Blue Ridge National Heritage Area to produce videos of artisans in Dillsboro to raise awareness of Appalachian craftsmanship.
The organization has also worked towards greater environmental sustainability, funding the purchase of garbage collection tools, bear-proof recycling containers, "Leave No Trace" signs and trail counters. electronics for Panthertown Valley.
"As we see more visitors, as a long time resident here, I don't want to develop tourism for growth. I want it to be sustainable, I want these mountains to be there for generations to come, "said Breedlove.
To ensure smart and sustainable growth, JCTDA funds efforts to distribute visitors throughout the year, attracting tourism during the less busy times of the year.
"We're not trying to get everyone here on a Saturday in October because they will have less good experiences, but there will also be a lot of people. So we try to distribute people during our period of need, from January to March. It's a time when the crowds dissipate and the mountains are crisp, clean and cool, "said Breedlove.
The JCTDA also purchased three billboards along major corridors from Atlanta, Cherokee and Asheville to Jackson County. The new signs say there are five breweries in Jackson County, farm-to-table restaurants and shops.
"We have heard from all of our merchants that they have seen an increase in their sales since we launched them. So it's a small investment to attract businesses to our small towns.
The tourism department has also partnered with a new public relations firm, Lou Hammond Group, to promote Jackson County. Commissioner Gail Woody noted during the Dec. 14 working session that this company was instrumental in securing an article on Dillsboro in Our State Magazine.
"A Dillsboro merchant told me that October was the best seller she's ever had in all of her years. And she thought that was a big part of being in the magazine, "said Woody.
The company has also worked hard to educate influencers, travel editors and meeting planners about the unique scene Jackson County has to offer. Jame, a new Mediterranean restaurant in downtown Sylva, has become a popular spot for travel writers. Ilda, another new downtown restaurant won mountain restaurant of the year by Eaters Carolina.
"During the pandemic, we focused primarily on the community because we recognized that if we don't focus on our small businesses and restaurants, when our visitors come back there will be nothing to come back to" said Breedlove.
To research
In an effort to strengthen its return on investment, research has been an important component of JCTDA's work over the past year.
"It's something we spend a lot on, but it determines every decision we make in terms of tourism marketing. "
The group is now partnering with Visa so that the JCTDA can know, month by month, how much visitors spend, what markets they come from and how they spend their money. The top origin markets for 2021 were the Greenville-Spartanburg area, Asheville, Atlanta, and Charlotte. Most of the residents of those areas stayed in Jackson County overnight.