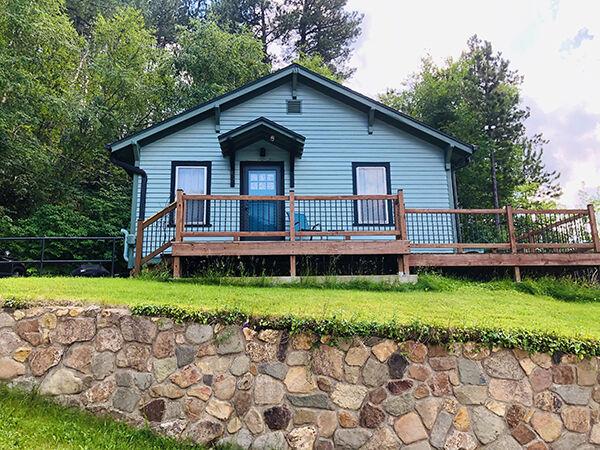 Illegal Short-Term Rentals in Deadwood Resolved, Progress Made | Local News
DEADWOOD – Deadwood Planning and Zoning Administrator Jeramy Russell is very excited about the city's progress in addressing its short-term illegal tenancy issue.
"We're getting there," Russell said. "It's exciting. I'm a person in my job, so unless you're on it every day, and that's before our partnership with Hamari, you should literally be on it every day, looking for all of these. Websites It is impossible It really is, when you consider everything that goes with this job.
In terms of order violations and illegal short-term rentals, the Presidential District of Deadwood was the most problematic, with the most violations.
"There were also a lot of them on Williams Street," said Russell. "One, being the presidential zone. Two, being Williams Street, the centennial quarters up there.
On January 4, the Town of Deadwood Commission approved a $ 5,500 agreement with Hamari Solutions, a third-party company that helps municipalities regulate short-term rentals, which went into effect on January 1.
"When I started investigating these third-party companies there were about 300 vacation rentals here in Deadwood and when we set up our partnership with Hamari and they took over on January 1 we were about 130 to 160 and as of Friday we're down to 65. Of those 65, only 15 are totally out of compliance, so we've got that way down. We're very, very happy about that, "said Jeramy Russell, Planning and Zoning Administrator for Deadwood. "A lot of work, the staff still have to be involved, but it's a lot easier for us because they do all the entry of this information for us. They scan AirBnB and VRBO and Craig's List and Facebook. All these places where people market and they get us excited. They tell us where the house is, who owns it, where they live, how we contact them.
Russell said this kind of assistance is huge in fixing the problem.
"Because some of these people know how to make the system work," he said. "And they won't sell until late at night, where we don't see them, where it catches them."
Russell then runs a report, which lists the violations and the city begins the process of dealing with the violation of the ordinance.
"We have a first letter coming out of me, then our second letter is from the city attorney and then it would go through the litigation process, which could be a class 2 misdemeanor, which I hope we don't. will never have to do it, you know, sue someone, "Russell said.
A Class 2 misdemeanor carries a sentence of up to 30 days in the county jail and / or a fine of $ 500 per offense.
Russell said the next step will likely be to incorporate some sort of license.
"It doesn't mean opening up the city or anything like that, but it's a way for us to follow them," he said. "Because you have two sections – you have illegal vacation rentals that are in Residential and Residential 2, where you just can't do them. These are completely illegal. But then you have other zoning classifications around town – commercial, commercial freeway, even a PUD… but these people still have a process to go through. They can't just say, "We're well zoned, so we can do it." No, they need to make sure they pay their BID tax, BID 1-6, they need to make sure they have commercial tariffs for their water, sewage, and garbage. They must have their state excise tax number. They must have their inspection from the Department of Health, so there is a list of things they must do.
Russell directed those interested in offering short term rentals in Deadwood to the town's website under Planning and Zoning.
"So people have an idea of ​​what to do," he said. "If you're zoned commercial, this is what you need to do. Go to the Planning and Zoning website, Short Term Rentals, follow these steps.
The Town of Deadwood short-term rental ordinance prohibits the transitional use of commercial residential property.
"You can't do it in R-1, which is residential or R-2, which is multi-family residential," Russell said. "The presidential zone, you can't do it. The Williams Street neighborhood, you can't do it. Burnham and McKinley area, you can't do it.
Areas that include a lot of mixed-use, for example, the area along Sherman Street that turns into Cliff and Charles, may allow for short-term rentals.
"There are areas of residential homes where you can do this," Russell said. "They just aren't zoned residential. These are zoned commercial highways.
Short-term rentals are currently prohibited by ordinance in zoned residential areas (Chapter 17.53 TRANSITIONAL COMMERCIAL USE OF RESIDENTIAL PROPERTY – PROHIBITED).
The purpose of the Deadwood Ordinance is to preserve and enhance the character of residential neighborhoods.
The ordinance defines the transitional commercial use of a property as the commercial use of a residential property for a bed and breakfast, inn, hotel, inn, lodging, motel, resort or other other uses of temporary accommodation when the duration of occupation, possession or rental of the property is for less than 30 consecutive calendar days.
The ordinance prohibits such use of property in the residential land use district. The exception is 14 days or less during the month of August, starting four days before the start of the Sturgis Motorcycle Rally each year. Bed and breakfasts also have different definitions and rules.
The penalty for violating the order is a fine of $ 200 per day.
To read all of today's stories, click here or call 642-2761 to subscribe to our electronic edition or home delivery.