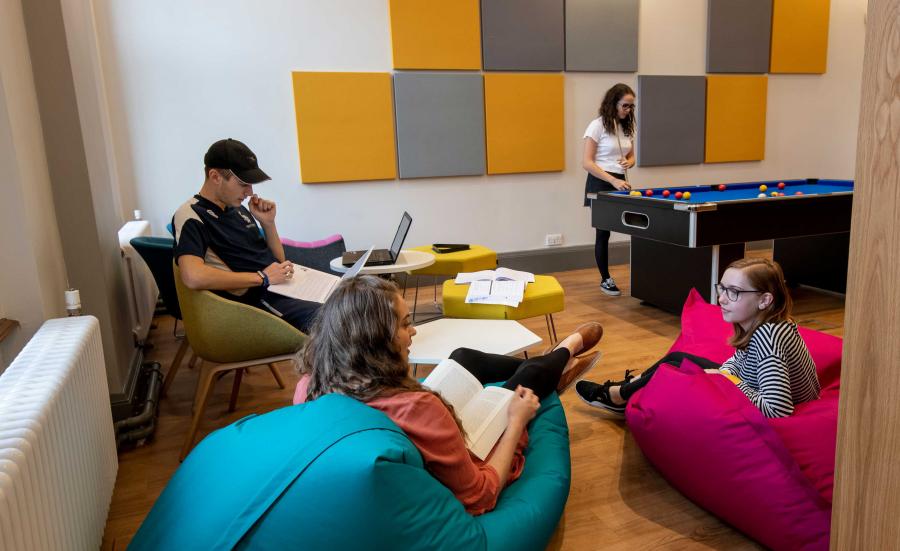 How the pandemic changed student accommodation
University campuses are places where students from all over the world come together to live and study. This unique ecosystem has been significantly disrupted by the coronavirus pandemic – forcing students to return home in the middle of the semester and creating uncertainty in their social and academic lives.
However, despite this impact over the past 18 months, the number of students is on the rise, with a record number of 18-year-olds applying for full-time undergraduate courses for the 2021/22 academic year, according to university and college admissions data. Service (UCAS).
Naturally, as the number of applications increases, there is an increase in the demand for student accommodation, whether it is purpose-built student accommodation (PBSA) or managed by the university or multi-occupancy houses.
Ensuring that rooms are of high quality, affordable, well located, and meet individual needs – especially well-being – are all essential parts of any university's offer. It is therefore more important than ever for universities and private accommodation providers to work together to ensure that student accommodation supports students in their educational journey.
Welcome all students
Domestic students represented 81% of the 682,010 applicants for the 2021/22 academic year. They tend to prioritize value for money and seek shared accommodation (student accommodation has seen a 42% increase in demand for shared accommodation). This correlates with the increase in domestic applications, which could be in part due to the fact that the university is a very viable alternative to looking for a job while the UK is still, technically, in the thick of it. pandemic. Another factor that must be taken into account in the immediate pressure on student housing is the population increase from 18 to the mid-2020s.
On the other hand, the PBSA is often more attractive to international students; Higher Education Statistics Agency reported that undergraduates from China are more than twice as likely to live in PBSA as domestic students. While Brexit had an impact recently, UCAS data shows Chinese student applications for 2021 stood at 28,490, which has more than doubled since 2017.
With UK universities remaining popular with domestic and international students, universities and private providers need to ensure that there is a good balance between all types of accommodation to meet the demand for different preferences. Finding that balance can be tricky.
Rental guarantees
Relationships between universities and private providers usually involve medium or long term appointment agreements or the like, which tend to indicate that the building owner will provide services and accommodation to minimum specifications for the students. In return, universities will agree to advertise this accommodation to their students, and find and appoint these students to private providers. The private providers then enter into leases with the students. This relationship is invariably supported by a level of rental guarantees from the university to the private provider that students will occupy their accommodation and, most importantly, pay rent.
When the pandemic first struck, the social responses were extraordinary, with homes needing to be vacated and university studies put online. Since then, there have been a series of interruptions of various levels, some of which have prevented the occupancy of student accommodation.
Hopefully in the future we won't see any more blockages having such a dramatic effect, but it has caused universities and private providers to take a close look at their agreements and revise the sums paid out, especially if housing cannot. not be busy. .
Commercial lawyers have been busy dealing with force majeure issues. Likewise, the issue of reimbursement or exemption of student rents has been very hot on both sides.
Adopt a partnership approach
On a larger and more important note, providing quality student accommodation is more than money for universities. Without a comfortable living environment, young people may find it difficult to settle into their new home, which minimizes their chances of excelling academically.
As attending university is often the first time many young people have lived away from home, it is essential that they feel safe and comfortable in their accommodation in order to have the best possible experience.
Universities are keenly aware of their pastoral role in ensuring that students feel taken care of. The pandemic has exacerbated the upheaval and uncertainty many students felt about their experiences on campus. The repercussions are still being worked out.
The UPP Foundation's Student Futures Commission is working closely with vice-chancellors to see where post-pandemic priorities should lie to help students get back on track. Responses indicate that a sense of belonging is fundamental and that building cohesive student communities is a leadership priority across the sector.
Student accommodation will have a role to play in all of this. This means that key players, in particular universities and private providers, should prioritize relationship building and an even more partnership approach. It starts at the start of the relationship where universities would like to know the attitude of the private provider not only towards the provision of facilities but also of the additional welfare services that might be provided.
It also allows for well-drafted contracts and service level agreements, and continues by maintaining direct contact and having regular and open dialogue with operators. This in turn will ensure that students not only get the best value for their money, but also the best from their accommodation and campus experience.
By Clive Read, educational partner of the law firm Shakespeare Martineau, which has advised universities on the management and development of their campuses for over 30 years.