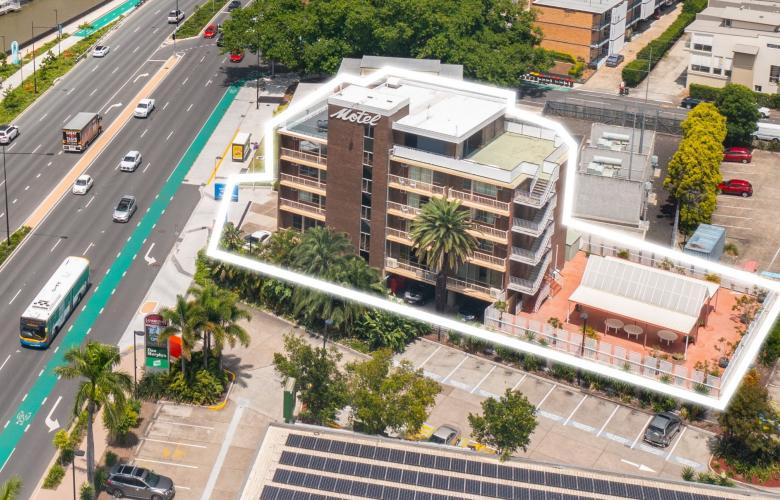 Hamilton Motor Inn Brisbane sold – JLL
The Hamilton Motor Inn has been sold by JLL Hotel & Hospitality Group in conjunction with the JLL Investment Sales team on behalf of long term family owners. Represented by Gareth Closter and Tom Gleeson, Senior Vice Presidents of JLL Hotels & Hospitality Group and JLL Director of Metropolitan Queensland Sales and Investments, Tim Jones, the sale sets a new benchmark for accommodation assets in Brisbane.
"The expressions of interest campaign ended with 11 competitive offers and the top three were cash, on unconditional terms. There was a mix of buying groups including accommodation operators, investors private individuals, developers and groups seeking to reposition the asset.
A major player in Brisbane's first tourism boom and a long-standing beacon of the Inner North, the property is ideally positioned with uninterrupted views of the river and city skyline. The five-level building comprises 22 bedrooms, a caretaker's unit, reception area and restaurant, rear courtyard, roof terrace and reception with ample in-ground parking.
"This sale is a great example of multiple divisions within JLL adding value to the sales process and ultimately achieving the best possible outcome for our supplier. Our hotels, pubs, metropolitan and investment sales teams all had potential buyers for the asset and we worked together and created an extremely competitive environment for the sales process," said Mr Closter.
The result reflects a per-key rate of over $272,000, which sets a new benchmark for budget accommodation establishments in the Brisbane market.
Tom Gleeson of JLL Hotel said: "While factors such as road improvements and COVID-related disruptions have affected the Kingsford Smith Drive hotel sector, the market has reacted vigorously to the campaign and the result provides evidence. quantities of real green shoots for the surrounding neighborhood. said Mr. Gleeson.
For more information, contact the agents via the contact form below.