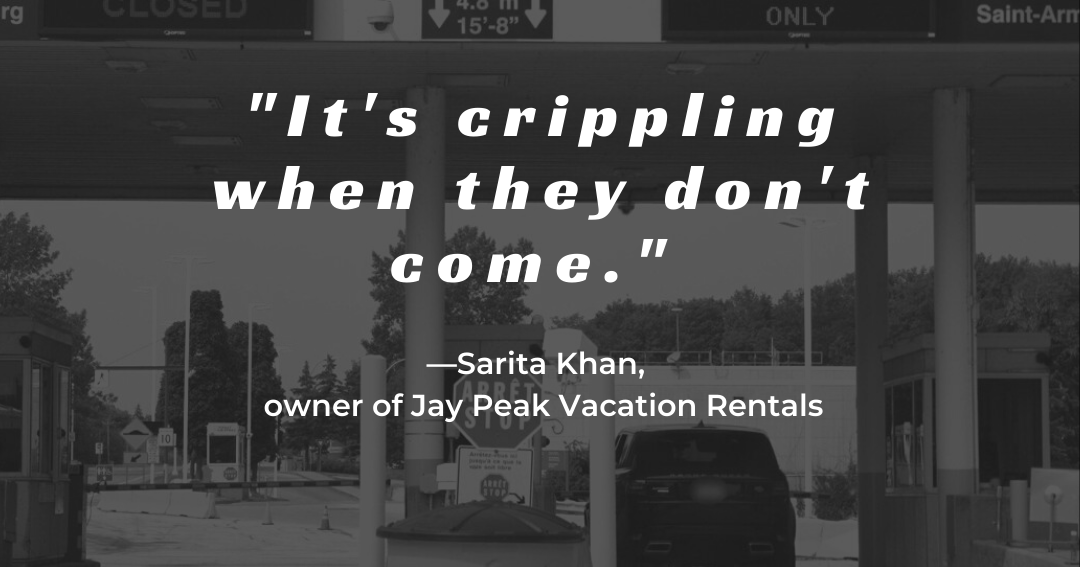 Canadian Border May Be Open, But Franklin County Hotel Industry Still Waiting For Travelers | Business
FRANKLIN COUNTY – The Canadian border has been open since November, but hoteliers haven't seen Canadian visitors rushing to Vermont.
In a typical year, Lynne Drevik said about one in five travelers, or 20%, come from Canada to visit her establishment, the Phineas Swann Inn & Spa, located in Montgomery and near Jay Peak. This ski season, she estimates that figure is closer to 3%.
With COVID-19 numbers accelerating, she doesn't expect the percentage to increase much more. She has previously had stays at the Phineas Swann canceled after the Public Health Agency of Canada advised Canadians to avoid non-essential international travel last week.
Sarita Khan, owner of Jay Peak Vacation Rentals, also hasn't seen the number of Canadians she usually sees.
"On one side of the street you are used to seeing Quebec license plates, and on the other side you would see Vermont license plates," she said. "It's crippling when they don't come."
This, however, does not mean that Canadians completely ignore Vermont.
Day trippers
St. Albans Hampton Inn manager Maureen Brown said she has seen a slight increase in the number of Canadians in the area, but they don't always stay in hotels.
Most often, it is aimed at Canadian residents worried about their second home in Vermont, who make the trip to verify their property.
Canadian day trippers are also passing through, Brown said.
"I'm seeing a slight increase because it's easier to get around, but they do day trips for shopping instead of spending the night. This is what they couldn't do before, "said Brown.
A quick spot check at TJ Maxx and Walmart in St. Albans confirmed this. It's not uncommon to see at least a few Canadian license plates in their parking lots, as Canadian buyers often take advantage of Vermont's tax cuts, Brown said.
Lisamarie Charlesworth, director of the Franklin County Chamber of Commerce, agrees with the assessment.
At her weekend job, she finds many people from outside St. Albans – including Canadians – who come to the area to find local businesses.
However, she does not get many calls from Canadians when she is in the House office, and she has not seen a single one come through the door. On the contrary, she is more accustomed to advising Americans who are considering crossing the northern border than Canadians who are considering traveling to Franklin County.
"Canada has put in place a strong constrictive mitigation around Omicron, and I have a feeling that is going to reduce some back and forth across the border," she said.
COVID-19 as discouragement
Khan said government demands only convinced Canadians to stay outside of Vermont. By law, Canadian travelers must test negative for COVID-19 before returning if they are out of the country for more than 72 hours.
For those without a second home, the requirement can often leave Canadians on vacation waiting for test results, and if the test is positive, the trip can turn into a much longer and more expensive stay.
"I think everyone is upset, it's arbitrariness about it," Khan said.
With the Omicron variant increasing the number of COVID-19 infections, this makes planning a trip across the border even more risky.
"We just had a cancellation yesterday for someone staying between Christmas and New Years," Drevik said. "It's usually the busiest time of the season.
This year also happens to be the busiest time for new cases of COVID-19. Franklin County reported 79 new cases on December 15 – the highest number of new COVID-19 cases reported since the start of the pandemic.
"I don't think it's going to change for a while. It's a virus that continues to mutate and grow on its own, and I think it needs to run its course, "Charlesworth said. "And I don't think it's done yet."
Americans fill the void
Fortunately, American travelers have recovered some of the slack left by Canadians.
As fewer Americans choose to travel by air, many travelers are looking to vacation closer to home, and some welcome the low-density vacation spots offered by rural Vermont.
For now, that will have to be enough.
"In terms of property management, we can survive with the Americans. With the blockages, people want to travel to rural Vermont, "Khan said.