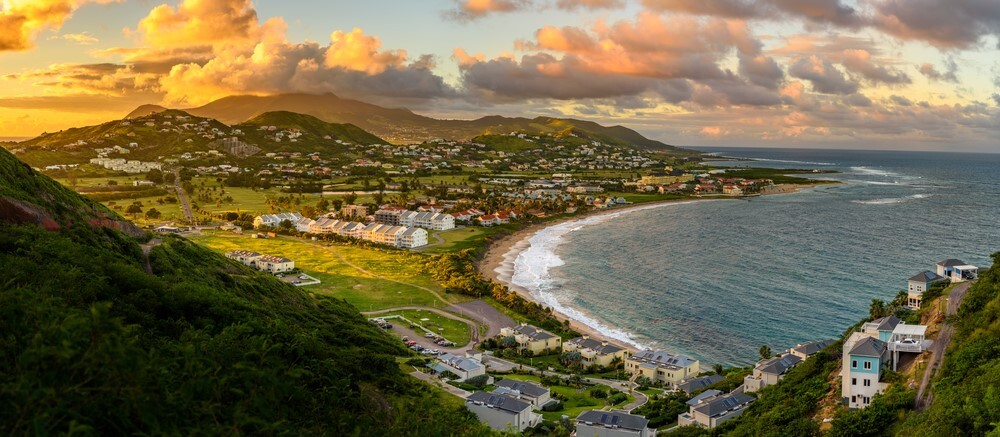 Basseterre, St. Kitts and Nevis • Stimson Center
=
Coastal cities are on the front line of the climate emergency. Rising sea levels, extreme weather events and warming temperatures amplify the vulnerability of city residents. At the same time, many coastal cities struggle with underlying economic and social issues such as inequality, employment in vulnerable industries, outdated infrastructure and governance gaps. Today, it is estimated that 40% of the world's population lives less than 100 km from the coast. By 2050, 580 cities, home to 800 million people, are expected to be threatened by rising seas and storm surges.
These interconnected problems have profound consequences for the social, political and ecological health of coastal areas. Climate risks compromise the economic, food and environmental security of cities, can increase tensions and unrest and hamper adaptation efforts. To prioritize further resilience actions, decision makers must have access to information that integrates complex climate threats across the landscape and seascape.
In response, the Stimson Center developed CORVI: The Climate and Ocean Risk Vulnerability Index, a decision support tool that compares a wide range of risks, related to climate risk, to produce a risk profile of coastal cities. With this information, decision makers can make climate-smart investments to build resilience where it matters most.
The urgency of adapting to climate risks in the small island states of the Caribbean
As the world comes together for COP27, more attention than ever is being paid to the need to build climate resilience in Small Island Developing States (SIDS) and deliver on previous pledges to mobilize increased levels of climate finance . SIDS emit less than 1% of global greenhouse gas emissions, but climate impacts already pose an urgent danger to the safety and security of their residents and businesses. Yet SIDS accessed less than 2% of climate finance pledged to developing countries in 2019. SIDS leaders are at the forefront of growing calls for increased funding for climate adaptation. To unlock funding and design and implement resilient solutions, policymakers need a comprehensive understanding of how climate change interacts with urbanization across the land and seascape. To address this need, Stimson conducted a CORVI assessment in St. Kitts and Nevis.
Using CORVI, research teams in Saint Kitts and Nevis, the United States and Taiwan collected data and conducted nearly 90 surveys and expert interviews to provide decision makers with a comprehensive picture of risks of Basseterre. Stimson is delighted to announce the launch of the CORVI Basseterre report at COP27.
The CORVI project would like to especially thank TaiwanICDF, the Ocean Affairs Council and the Government of Saint Kitts and Nevis for their invaluable partnership and financial support in advancing this project.
Key findings from Basseterre, Saint Kitts and Nevis
Basseterre, the capital and largest city of St. Kitts and Nevis, is one of the oldest settlements in the Eastern Caribbean. The city is located in the southwest of Saint Kitts and has a population of approximately 14,000, or more than 25% of the country's population. Notable risks identified include:
Heavy reliance on industries vulnerable to climate change in particular travel and tourism, which accounted for over 52% of gross domestic product (GDP) and nearly 60% of total employment in 2019. Basseterre is the center of tourism in Saint Kitts and Nevis, including Port Zante, which can accommodate the largest cruise ships in the world.
Vulnerable marine and coastal ecosystems are damaged by the destruction of mangroves due to the development of the tourism industry, coral bleaching, stony coral tissue loss disease, dredging, sewage discharge, plastic pollution and runoff from hillside development projects. Marine and coastal ecosystems are an important tourist attraction, provide habitat for marine wildlife, and provide protection from erosion and storm surges.
Growing risks from extreme weather events including hurricanes and land and sea heat waves. Although no hurricane has made landfall in St. Kitts and Nevis since Hurricane Georges in 1998, the country has suffered significant losses from several storms, including nearly $20 million from the hurricane Irma in 2017. The frequency of severe hurricanes in the eastern Caribbean is expected to increase by 25-30%.
High levels of unreported fishing which some estimates put at more than 75% of the total catch. Since 2014, Saint Kitts and Nevis has been on a European Union list of countries ("yellow card") warned of non-cooperation in the fight against illegal, unreported and unregulated (IUU) fishing.
Dependence on imported fossil energy which represents 95% of national electricity production and 98% of total energy consumption. Spending on imported fossil fuels was 4% of GDP in 2015 and leaves the country vulnerable to price fluctuations in the global oil market.
Priority recommendations:
Establish a permanent data management and coordination mechanism improve the collection, availability and sharing of data on climate risks. This could include connections between and between the public and private sectors, encompass ecological, financial and social data and facilitate coordination in resilience planning.
Increase investments to build resilience to climate risks in key sectors, including tourism, port operations and housing. This could include increased integration of green/blue infrastructure, improved waste management to maintain clear drainage channels, and promotion of sustainable ecotourism.
Develop renewable and distributed energy capacity to reduce single points of power grid failure, improve post-storm recovery, and reduce energy import costs. This could include simplifying import regulations, providing supportive financial incentives, and improving public-private coordination.
Ecological risk in Basseterre, Saint Kitts and Nevis
Due to Basseterre's reliance on marine and coastal ecosystems, ecological risks are concentrated in the Ecosystem category. The city also faces high risks from unreported and unregulated fishing, the increasing frequency of extreme heat, and more frequent severe hurricanes. The main challenges identified include:
Unreported fishing is estimated to represent around 75% of the total catch in 2019, and interviews noted a decline in availability at the Bay Road fish market. Saint Kitts and Nevis has received a "yellow card" from the EU since 2014.
Extreme heat events are becoming more and more frequent. St. Kitts and Nevis has seen the highest increase in the number of extremely hot days of any country in the Eastern Caribbean. Marine heat waves damage key ecosystems, including coral bleaching.
Coverage of mangroves has shrunk to less than 0.7 km2, a drop of almost 20% since 1980, mainly due to the development of hotels and resorts. Small stands remain on the southeast peninsula of St. Kitts and on Sandy Point.
Harmful Algae Bloomin particular Sargassum, are increasingly common, particularly on the Atlantic coast, including the key tourist areas of Frigate Bay and Half Moon Bay.
Coverage of coral reefs has declined due to various threats including coral bleaching, stony coral tissue loss disease, dredging, discharge of untreated sewage, plastic pollution, and runoff from hillside development.
Financial risk in Basseterre, Saint Kitts and Nevis
Basseterre's economy, like that of the country as a whole, is heavily based on travel and tourism, which is reflected in the assessment's highest risk score. The city also faces significant risks due to its heavy reliance on fossil fuels, a highly developed coastline vulnerable to extreme weather events and flooding. The main challenges identified include:
The tourism industry accounted for more than half of GDP before the COVID-19 pandemic. The industry depends on healthy ecosystems such as coral reefs, coastal infrastructure such as hotels, and a productive workforce.
Renewable energy accounts for less than 5% of electricity and 2% of total energy consumption, with diesel and oil making up the rest. This makes residents and businesses vulnerable to fluctuations in world prices and increases air pollution.
The informal economyalthough smaller than many other countries in the region, makes inclusive resilience planning and post-disaster support more difficult.
A highly developed coastline, in which the majority of the country's physical infrastructure and tourist hotels. The coastline is vulnerable to coastal inundation and flooding caused by rainfall descending from the mountainous interior.
High market losses due to extreme weather events, most recently, $27.6 million from Hurricanes Irma and Maria in 2017. The Caribbean Catastrophe Risk Insurance Facility estimated annual losses from hurricanes of $15.1 million.
Political risk in Basseterre, Saint Kitts and Nevis
Like many Eastern Caribbean States, St. Kitts and Nevis faces technical, institutional and financial constraints to the effective implementation of its resilience strategies. Basseterre also faces significant risks related to urbanization and high employment in tourism. The main challenges identified include:
Insufficient capacity to meet adaptation needs with less than 50% of the measures included in the 2018 national adaptation strategy having been implemented by the end of 2021.
High employment in tourism which accounted for more than 60% of total employment before COVID-19. Employment in tourism fell by 30% from 2019 to 2021 due to travel restrictions imposed due to the COVID-19 pandemic.
A rising dependency ratio as the population ages in the future. This will lead to a 50% increase in health expenditure between 2018 and 2050 and increase the population at high risk of extreme weather events.
A growing urban population which increased by almost 3% from 2011 to 2018, triple the national rate. This has led people to encroach on risk-prone areas, such as coastal floodplains and steep slopes, and puts a strain on waste disposal services.
Interpretation of risk scores