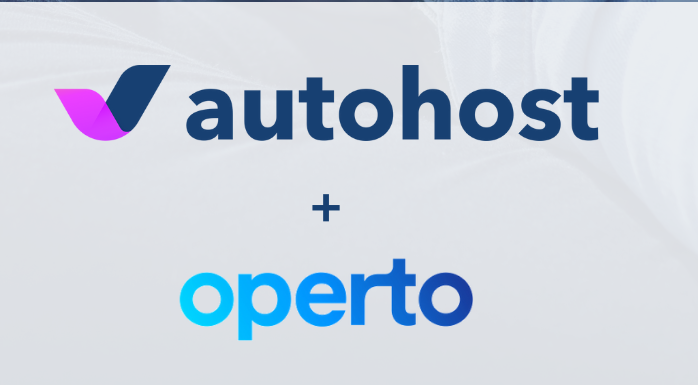 Autohost and Operto Partner to Offer End-to-End Automation and Security to Hotels and Short-Term Rental Operators
"Since COVID-19 revolutionized the hospitality industry, operators have been looking for solutions to meet the growing expectations of travelers, while ensuring their properties, businesses and communities are protected. "- Roy Firestein, CEO of Autohost
TORONTO (PRWEB)
07 October 2021
Guest filtering and verification provider Automatic host today announced a strategic partnership with Operto, a leading provider of property automation for hotels and vacation rentals. The partnership creates a secure and scalable integrated solution that enables operators to automate and protect their business operations while delivering a digital contactless customer experience.
In the wake of COVID-19, the hospitality industry has seen increased demand for digital recordings and tech stays. From Operto's latest State Of Tech-Enabled Stays Report, nearly 50% of customers expect or prefer a contactless check-in option. As the industry shifts to digital interactions, operators face an increased risk of incidents including parties, fraudulent bookings, and other criminal activities such as human trafficking and sex trafficking.
The combined solution of Operto and Autohost helps solve these challenges for customers and operators. Prior to check-in, Autohost sends the guest through a secure online guest portal where they are asked to provide the information necessary to validate their identity, just like airline passengers. Based on the information provided, Autohost verifies or reports the reservation, alerting the operator to any suspicious details that may present a risk or could lead to an incident.
Once verified, the guest automatically has access to Operto's digital guest experience, allowing them to manage their stay with contactless payment, housekeeping requests and control over their property's smart devices, including the thermostat and smart locks.
This industry-first integration creates a seamless digital experience for guests, reducing unnecessary face-to-face interactions while ensuring the safety of guests and operators throughout the stay.
"Since COVID-19 revolutionized the hospitality industry, operators have been looking for solutions to meet the growing expectations of travelers, while ensuring their properties, businesses and communities are protected," said Roy Firestein, CEO from Autohost. "Operto and Autohost are the perfect combination of solutions to make this a reality. This is why this partnership makes so much sense.
"Hotels and short-term rental operators are looking for ways to improve automation and create world-class guest experiences," said Steve Davis, CEO of Operto Guest Technologies. "The Operto Connect platform provides operators with the necessary solution to offer contactless and personalized stays, while the partnership with Autohost secures the check-in process, giving operators confidence in the safety of their guests and their properties. "
To find out more about the integration visit: https://www.autohost.ai/partners/operto
About automatic hosting

Autohost is a guest selection and automation platform for fast growing hospitality businesses. Using machine learning and behavioral checks, the platform creates a scalable and automated process to assess clients and keep properties safe. Learn more about http://www.autohost.ai.
Media inquiries: [email protected]
About Operto

Operto provides guest, team and property automation solutions for hotels and vacation rentals. To find out more visit http://www.operto.com.
Share the article on social media or by email: