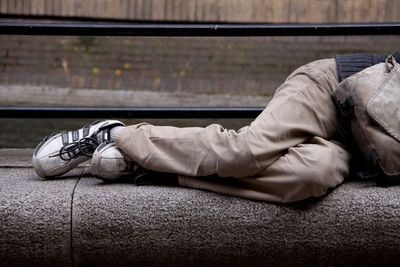 Anti-landlord rhetoric in the fight against homelessness must end
The Senedd Local Government and Housing Committee consultation on homelessness following an unprecedented demand for temporary accommodation supply by local authorities specifically wanted to explore the supply of temporary accommodation, the impact of living in temporary housing on individuals and their families and ways in which the supply of temporary affordable housing could be increased.
Propertymark stressed that the Welsh Government must increase the supply of private and social housing.
Increase supply in the private rental sector
We insisted that temporary accommodation should be just that – temporary. To meet the needs of vulnerable people, they need durable housing that they can call home. When families live in temporary accommodation, they have reduced medical, educational and employment opportunities. With the right supports in place, more families can access PRS.
We took the opportunity to issue a further warning about proposals to increase notice periods to six months that may have on offer in the PRS. This could be further impacted by rent freezes that could be considered in early 2023.
Local housing allowance
Propertymark also stressed that the Welsh Government must continue to ask the UK Government to increase Local Housing Allowance (LHA) rates to keep in line with market rents, scrap shared accommodation rates and review large areas of the rental market that do not reflect the fair LHA. rates.
Local authorities also have a role to play in ensuring that vulnerable tenants have adequate access to discretionary housing payments to help them with rent arrears or other housing-related financial problems.
element var gaTagWrap = document.createElement('noscript'); gaTagWrap.id='civic-gtm-noscript'; let gaTagMan = document. createElement('iframe'); gaTagMan.src="https://www.googletagmanager.com/ns.html?id=GTM-MFJHJBD"; gaTagMan.style="width:0;height:0;display:none;visibility:hidden"; gaTagWrap.appendChild(gaTagMan); document.body.insertAdjacentElement("afterBegin", gaTagWrap ); the window['ga-disable-UA-4539756-11'] = false; // Google consent mode gtag('consent', 'update', {'analytics_storage': 'granted'}); }, onRevoke: function(){ var gtmTag = document.getElementById('civic-gtm-noscript'); gtmTag.remove(); the window['ga-disable-UA-4539756-11'] = true; gtag('consent', 'update', {'analytics_storage': 'denied'}); }, third-party cookies: [{"name":"Google","optOutLink":"https://tools.google.com/dlpage/gaoptout"}]
} , { name: 'Marketing', label: 'Marketing', description: 'We do not provide any personal information we collect to third parties. Targeting and retargeting cookies and advertising technologies such as Facebook pixels help us deliver relevant ads to you more effectively by collecting information about your browsing habits and site usage. We do not control social media cookies and they do not allow us to access your social media accounts. Pixels can also tell us when certain advertisements have been shown to you and limit the number of times you see the same advertisement. You can unsubscribe and change your preferences regarding marketing cookies at any time. ', cookies: ["'gt'","'guest_id'","'personalization_id'","'tfw_exp'","'metrics_token'","'GPS'","'PREF'","'_mkto_trk'"], recommendState: true, onAccept: function(){ // ADD Facebook Pixel !function(f,b,e,v,n,t,s){if(f.fbq)return;n=f.fbq=function( ){n.callMethod? n.callMethod.apply(n,arguments):n.queue.push(arguments)};if(!f._fbq)f._fbq=n;n.push=n;n.loaded=!0;n.version ='2.0′; n.tail=[];t=b.createElement(e);t.async=!0;t.src=v;s=b.getElementsByTagName(e)[0]; s.parentNode.insertBefore(t,s)}(window,document,'script','https://connect.facebook.net/en_US/fbevents.js'); fbq('init', '863682970469989'); fbq('track', "PageView"); fbq('consent', 'grant'); var fbTagWrap = document.createElement('noscript'); fbTagWrap.id = 'civic-fb-pixel-noscript'; var fbTagMan = document. createElement('img'); fbTagMan.src = "https://www.facebook.com/tr?id=863682970469989&ev=PageView&noscript=1″; fbTagMan.style="width:0;height:0;display:none;visibility:hidden"; fbTagWrap.appendChild(fbTagMan); document.body.insertAdjacentHTML("afterBegin", fbTagWrap.outerHTML ); //document.body.insertAdjacentElement("afterBegin", fbTagWrap.outerHTML ); // END Facebook Pixel // ADD LinkedIn var _linkedin_partner_id = "238970"; window._linkedin_data_partner_ids = window._linkedin_data_partner_ids || []; window._linkedin_data_partner_ids.push(_linkedin_partner_id); (function(){ var s = document.getElementsByTagName("script")[0]; var b = document. createElement("script"); b.type = "text/javascript"; b.async = true; b.src = "https://snap.licdn.com/li.lms-analytics/insight.min.js"; s.parentNode.insertBefore(b, s);} )(); // including the
let liTagWrap = document. createElement('noscript'); let liTagMan = document. createElement('img'); liTagMan.src = "https://px.ads.linkedin.com/collect/?pid=" + _linkedin_partner_id + "&fmt=gif"; liTagMan.style="width:0;height:0;display:none;visibility:hidden"; liTagWrap.appendChild(liTagMan); document.body.insertAdjacentHTML("afterBegin", liTagWrap.outerHTML ); // END LinkedIn }, onRevoke: function(){ }, thirdPartyCookies: [{"name":"Twitter","optOutLink":"https://twitter.com/settings/account/personalization"},{"name":"YouTube","optOutLink":"https://policies.google.com/technologies/managing?hl=en"},{"name":"Facebook","optOutLink":"https://www.facebook.com/help/568137493302217″},{"name":"Vimeo","optOutLink":"https://vimeo.com/cookie_policy"},{"name":"LinkedIn","optOutLink":"https://www.linkedin.com/psettings/guest-controls/retargeting-opt-out?trk=microsites-frontend_legal_cookie-policy"}]
} , { name: 'Social Sharing', label: 'Social Sharing', description: 'We use the AddThis social sharing plugin to allow you to easily share certain web pages on your social networks.', cookies: ["'__atrfs'","'__atuvc'","'__atuvs'","'loc'","'uvc'","'xtc'","'mus'","'na_*'","'ouid'","'ssc'"], RecommendedState: true, onAccept: function(){ // Add addThis var addThisScriptTag = document.createElement('script'); addThisScriptTag.id = 'civic-addthis-script'; addThisScriptTag.src="https://s7.addthis.com/js/300/addthis_widget.js#pubid=ra-4d74c2894be8ba5f"; document.body.appendChild(addThisScriptTag); var shareWidget = document. getElementsByClassName('widget widget-share'); if (shareWidget) { if (shareWidget[0] ) { shareWidget[0].classList.remove('hidden'); } } // End of addThis }, onRevoke: function(){ // remove addThis var addThisScriptTag = document. getElementById('civic-addthis-script'); addThisScriptTag.remove(); var shareWidget = document. getElementsByClassName('widget widget-share'); if (shareWidget) { if (shareWidget[0] ) { shareWidget[0].classList.add('hidden'); } } // Finish removing addThis }, ThirdPartyCookies: [{"name":"AddThis","optOutLink":"https://www.addthis.com/privacy/opt-out"}]
} ], // Array of objects based on object consent CookieCategoryCookieExpiry: 90, statement: { description: 'For more information about the cookies we use, please see our' , name: 'Cookie Policy. ' , url: 'https://www.propertymark.co.uk/cookie-policy.html' , update: '21/01/2021′ }, logConsent: true, encodeCookie: true, sameSiteCookie: true, sameSiteValue: "Strict", closeOnGlobalChange: true, subDomains: true, // Customize appearance and behavior "slider", closeStyle: "icon", notifyDismissButton: true, settingsStyle: "button", acceptBehaviour: "recommended", text: { title: 'This site uses cookies', intro: 'Some of the cookies we use on our website are "necessary" (meaning they are essential for the website to work as it should) , while others help us improve your experience by providing information about how the site is used. You have a choice as to which cookies you accept. You can change your preferences at any time.' , acceptRecommended: 'Accept recommended settings' , rejectionSettings: 'Reject all' , requiredDescription: 'These cookies are required for the website to perform basic site functionality. In order to disable these cookies, you may need to change your web browser settings. You can also visit www.allaboutcookies.org for more details on how to delete or reject cookies and for more information about cookies in general. Please note that changing the settings will affect site performance. The settings save your login information so that the site recognizes you when you return for your convenience and to improve your experience, you can change these settings at any time.' , notifyTitle: 'Your consent to the use of cookies' , notifyDescription: 'Some of the cookies we use on our website are "necessary" (meaning that they are essential for the website to function as it should). While others help us improve your experience by providing information about how the site is used. You have a choice about which cookies you accept and you can change your preferences at any time.' , accept: 'Accept cookies', settings: 'Manage Cookies' }, branding: { fontFamily: 'URW Geometric,sans-serif', fontSizeTitle: '22px', fontSizeIntro: '15px', fontSizeHeaders: '18px', fontSize :'15px', fontColor: '#FFFFFF', backgroundColor: '#007A53', acceptText: '#004E35', acceptBackground: '#FFFFFF', rejectText: '#FFFFFF', toggleText: '#004E35', toggleColor: ' #004E35', toggleBackground: '#F0f0f0', alertBackground: '#004E35′, buttonIconWidth: '64px', buttonIconHeight: '64px', removeIcon: false, removeAbout: true }, excludeCountries: [], locale: "undefined" != typeof window ? window.navigator.language: "en", locale: [
], accessibility: { accessKey: ", highlightFocus: false } }; CookieControl.load(config); var onPageStyle = ""; if ( onPageStyle.length ) { var style = document. createElement('style'); style. innerHTML = onPageStyle; document.head.appendChild(style); }